In case you have ever had a bad experience with blood tests, the blood oxygen app for the Apple Watch will help you quickly check your levels. Here's how to use it easily on your wrist.
The "blood oxygen app apple watch 5" is a very easy way to use the Blood Oxygen App on Apple Watch.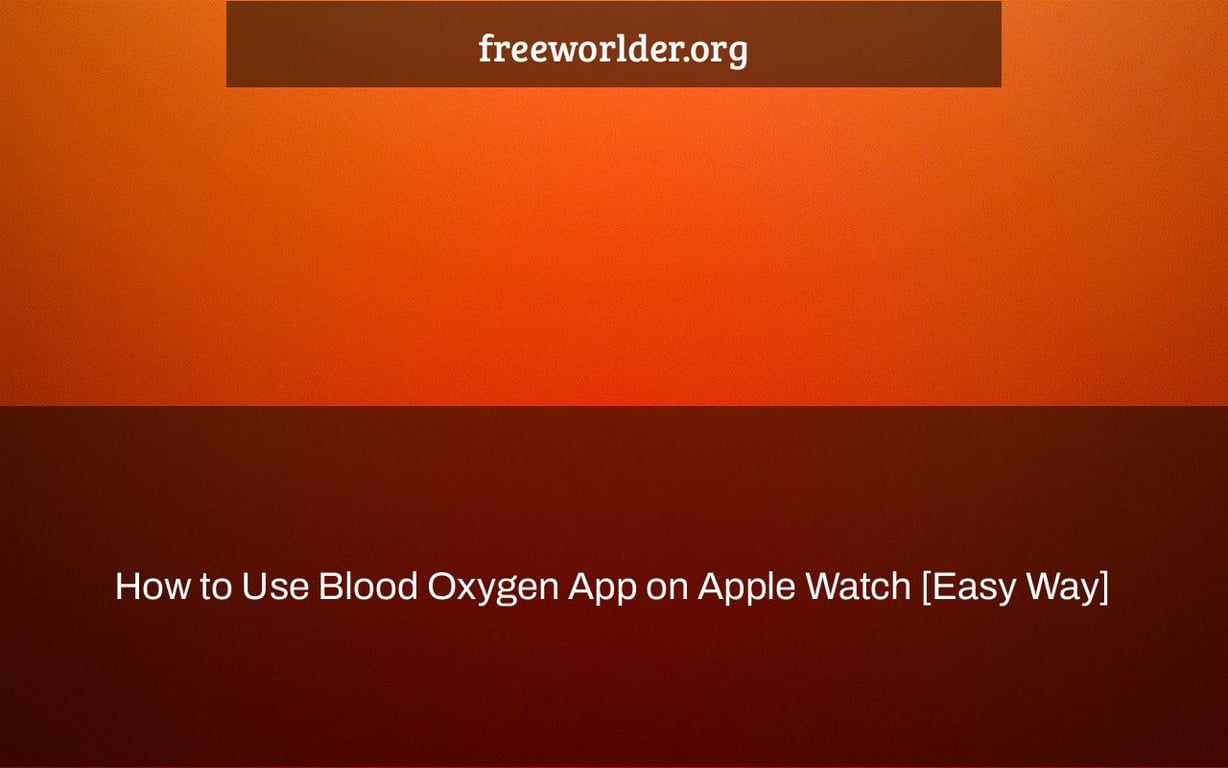 The Apple Watch is the world's most popular and finest wristwatch for tracking your health and fitness. It has a fitness tracker, heart rate monitor, hand wash detection, podcasts, ECG, Blood Oxygen, and many other useful functions. We will go through the Blood Oxygen app in depth in this article. Reduced blood oxygen levels in the body may cause a variety of issues, including asthma, pneumonia, respiratory infections, and more. However, it should not be too high at the same time. As a result, you should monitor your blood oxygen levels on a regular basis. The usual amount of blood oxygen is 95–100%. Take a look at the section below to learn how to use the Blood Oxygen app on your Apple Watch to monitor the blood oxygen level in your body.
How to Use the Apple Watch Blood Oxygen App
The following are the steps to using the Blood Oxygen app on your watchOS.
Prerequisite
Check to see whether the Blood Oxygen app is available in your area.
Install the most recent version of iOS on your iPhone 6s or later.
Install the most recent version of watchOS on your Apple Watch Series 6 or 7.
People above the age of 18 may use the Blood Oxygen app, so enter your age in your Health Profile.
How to Set Up a Blood Oxygen App and Take Readings in the Background
1. On your iPhone, open the Health app and follow the on-screen instructions.
2. If no prompt appears, select the Browse tab and proceed to Respiratory >> Blood Oxygen.
3. Select Set up Blood Oxygen from the drop-down menu.
4. To monitor your blood oxygen levels, open the Blood Oxygen app on your Apple Watch once you've properly set up the app.
5. If you still don't have the Blood Oxygen app on your Apple Watch, you may acquire it from the App Store.
Related: [Complete Guide] How to Monitor Heart Rate on Apple Watch
How to Measure Blood Oxygen Levels
1. First, make sure your Apple Watch is securely fastened to your wrist.
2. On your Apple Watch, open the Blood Oxygen app.
3. Finally, keep your wrist flat with the Apple Watch facing up and remain motionless.
4. Press the Start button and hold your arm still for 15 seconds.
5. The results will be available in 15 minutes.
6. Finally, press the Done button.
Requirements for Obtaining the Best Outcomes
1. Place your arms on a table or on your lap while taking the measurement. Hold as much as you can with your wrist and palm down and flat.
2. Your Apple Watch should be flawlessly worn. On your wrist, it should not be loose. Your Apple Watch's rear should be in contact with your wrist.
3. The top of your wrist should be flush with the top of your Apple Watch. If your wrist bones are in the way, move your watch 1 to 2 inches up your arm and away from the wrist bone.
Related: Two Ways to Install and Use Runkeeper on the Apple Watch
Final Thoughts
Have you figured out how to use the Blood Oxygen app to check your blood oxygen level? You'll need an Apple Watch Series 6 or 7 to test your oxygen levels. Furthermore, you should be aware that these measures are not suitable for medical purposes. It is only for the aim of general health and wellbeing. The Blood Oxygen app is currently only accessible in a few countries. In the comments box, please share your thoughts on this subject.
Watch This Video-
The "apple watch blood oxygen accuracy" is a question that has been asked many times. This article will show you an easy way to use the blood oxygen app on your Apple Watch.
Frequently Asked Questions
How do you check oxygen on Apple Watch?
A: The Apple Watch has a number of sensors that are used to monitor health and wellness. One such sensor is the heart rate sensor, which uses light from photodiodes to detect blood oxygen levels. If you have an Apple Watch Series 3 or later with built-in GPS, it can also measure your altitude using GPS signals transmitted by satellites in orbit above the earths surface.
How can I check my oxygen level without a machine?
A: Your oxygen level can be checked by placing a finger on your nose and sucking in.
How does Apple Watch oxygen sensor work?
What are the two types of oxygen sensors?
A: The Apple Watch uses an optical sensor to detect infrared light. These lights indicate that the wearer is breathing and then use this information to control the watchs functions, including detecting when someone falls asleep or wakes up. There are two different types of oxygen sensors which designate one as a photonic-based transient absorption spectrophotometer (TAS) and another as a semiconductor-based chemiluminescence depletion method (CDM).
Related Tags
apple watch blood oxygen app
apple blood oxygen app
apple watch blood oxygen covid
what does the blood oxygen app look like
apple watch blood oxygen accuracy 2021