This survival mode guide is for those of you who have never played Skyrim before and are looking to get into the game. Even if you're a seasoned player, these tips will still be helpful so make sure to read through them!
"Skyrim Survival Mode Tips & Tricks: How to Survive" is a guide that will teach you how to survive in the game. This mode is meant for those who are just starting out with Skyrim and want to learn more about the game.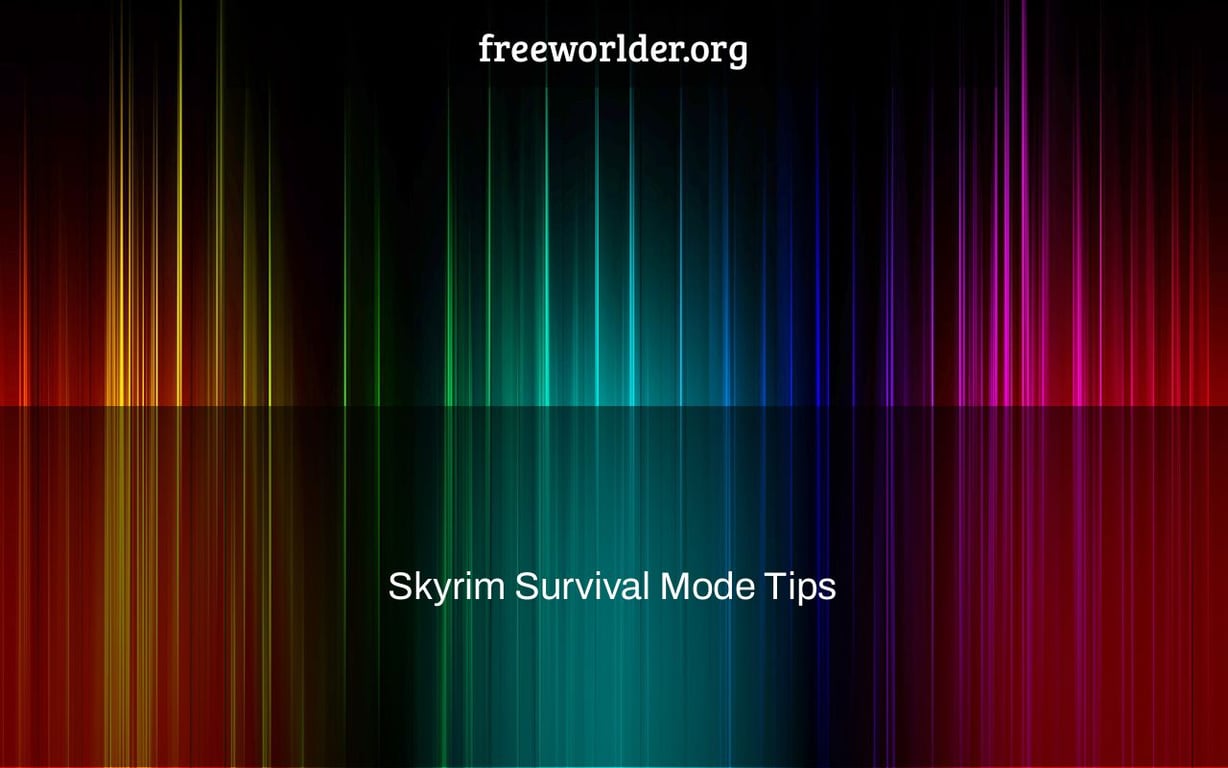 Survival Mode is a new feature in Skyrim that is part of the Creation Club. It's included in the free Anniversary Edition patch, much like fishing, however there are several modifications that are advantageous to have, such as Camping and Adventurer's Backpacks. If you haven't already bought the Anniversary Edition update, they must be purchased individually.
In any event, our Skyrim Survival Mode guide has a number of useful hints and ideas to keep you alive.
How to Enable and Start Skyrim's Survival Mode
As soon as you exit the instructional area in Helgen, Survival Mode will be enabled. It adds additional components and mechanisms to the game, such as hunger, weariness, and temperature, to make it more difficult.
Following your escape from Helgen, you'll get a notice informing you about Survival Mode. In the Gameplay Settings panel, you may turn this on or off at any moment.
Mechanics of Survival Mode
Hunger – Your character will get hungry over time. This will lower your overall stamina. You'll need to consume prepared meals to avoid this. Simply eating raw food will not suffice, and it may even cause sickness. Consider constructing a structure similar to the Fish Hatchery to ensure a consistent supply of food.
Fatigue – The Dragonborn can no longer keep going on adventures after adventures. In Survival Mode, you'll truly need to relax. Fatigue will reduce your overall magicka if you do not do so. You'll prefer to sleep in indoor beds if possible (i.e., inns, sanctuaries, or houses that you buy). You will not be well-rested just by sleeping outdoors.
Cold vs. Warmth – If you have Survival Mode activated in Skyrim, climates and weather are arguably the two most crucial elements to consider. Exploring in the cold may harm your overall health, and swimming in icy waters will worsen the problem. Your character will eventually perish.
In Survival Mode, you'll need to discover sources of heat to combat this. Building a bonfire in the woods (more on this below), eating hot soup, and wearing various sorts of warm clothes are all examples.
Other Important Factors – If you're playing Skyrim's Survival Mode, keep the following in mind:
Fast Travel – Clicking on a spot on the global map to teleport to that location will not function. However, riding carriages or flying on a dragon is still an option.
Sleeping on a bed is required for leveling up.
Health does not replenish over time, so you'll need to use Restoration spells, drink potions, or consume food to keep your health up.
Backpack Creations for Camping, Fishing, and Adventurers
In Survival Mode, having these Creation Club modifications activated is quite beneficial.
Fishing – Fishing may provide you with a lot of food that you can prepare. You may also construct a Fish Hatchery to ensure a continual supply of fish.
Camping — With this mod, you may make Camping Supplies (each one requires 1x Leather and 3x Firewood). You can simply chop logs for firewood with a Woodcutter's Axe. Outside of Belethor's shop in Whiterun, you may discover several logs. You may utilize Camping Supplies to instantly establish a campground when you're out in the woods in Survival Mode and need a source of heat or a place to sleep.
Adventurer's Backpack — These backpacks may be made using a variety of materials, some of which add to the carry weight.
Other Mods or Skyrim Survival Mode
What if you don't want to go through Skyrim's normal Survival Mode? That is all up to you. It is not necessary to enable it. If you want to try something different, consider the following mods:
Chesko's Frostfall — The mod is similar to Survival Mode, except instead of a single on/off toggle for the whole functionality, there are other settings to customize. This is one of the greatest Skyrim modifications in our opinion.
Campfire by Chesko — Like the last mod, this one is great if you want more immersion and difficulty. It has numerous follower support, as well as the ability to collect wood and build goods. Backpacks are included with this package. There's also a talent tree dedicated to improving your camping and survival skills.
Keung's Fur Armor Set — This Survival Mode mod offers many armor sets with different themes. They're "Frostfall aware," which means they offer a layer of warmth to your persona.
And that's all you need to know about Skyrim's Survival Mode. It adds a little more complexity to the entire experience, but whether you possess the Anniversary Edition or not, there are plenty of other modifications that serve a similar or even greater purpose. Consider visiting our main Skyrim guide page for additional information, including walkthroughs, builds, and other hints.
Watch This Video-
Skyrim Survival Mode is a new mode that was released for the game "Skyrim" on October 28th, 2018. This article will provide tips and tricks to help you survive in the new survival mode. Reference: skyrim anniversary edition content.
Frequently Asked Questions
How do you stay warm in survival Skyrim?
A: There is a hidden area in the Nordic Ruins which has a fireplace.
How do you level up in survival mode in Skyrim?
A: Survival mode is a game mode that allows players to download Skyrim mods. The player starts in an open world and must survive as many days they can while gathering resources, building settlements, hunting animals, etc. Players use experience gained from killing enemies or completing quests to level up their characters skills and abilities.
Can you disable survival mode Skyrim?
A: The answer to your question is no. This is because Bethesda has not made the option to disable survival mode in their game yet, Skyrim Special Edition.
Related Tags
skyrim survival mode best race
skyrim survival mode reddit
skyrim survival mode warmth rating
skyrim survival mode fast travel
skyrim camping